Hey brides, instead of reinventing the wheel, we found this awesome article on theknot.com. We hope that you enjoy! Yes, we know creating a wedding hashtag is a no-brainer way to round up all the wedding photos your guests will take on your day. But as if brainstorming creative hashtag ideas isn't hard enough already, making sure guests know about it and use it can prove even more challenging. While hashtags can appear early on to alert guests of their existence (think: save-the-date cards), they can quickly be forgotten by your wedding day. Here are some creative ways to display your hashtag so that it's known and used—#winning.
1. Wedding Program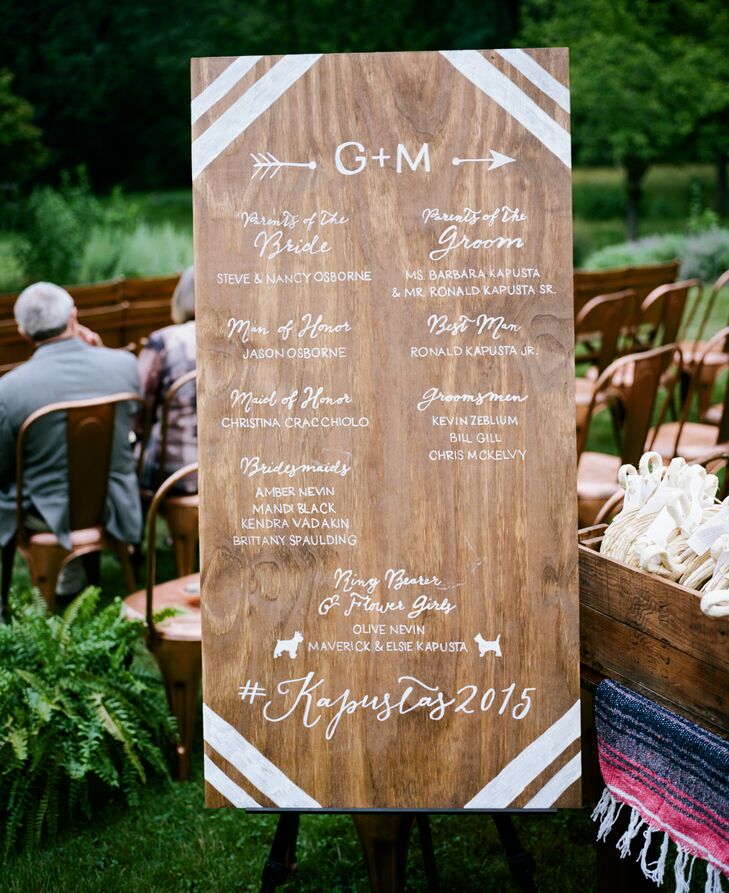 If you're skipping individual programs and opting for one display to showcase your bridal party members and ceremony itinerary, you should definitely consider using it as the place to also feature your hashtag. After all, it's one thing that your guests will pay attention to!
From: A Natural, Bohemian Wedding at Woolverton Inn in Stockton, New Jersey
2. Directional Signs
photo by 
WEDDING NATURE PHOTOGRAPHY
Guests similarly won't overlook the directional signs that'll show them the way to the ceremony and reception.
From: A Rustic DIY Wedding at Long Key Nature Center and Natural Area in Davie, Florida
3. Transportation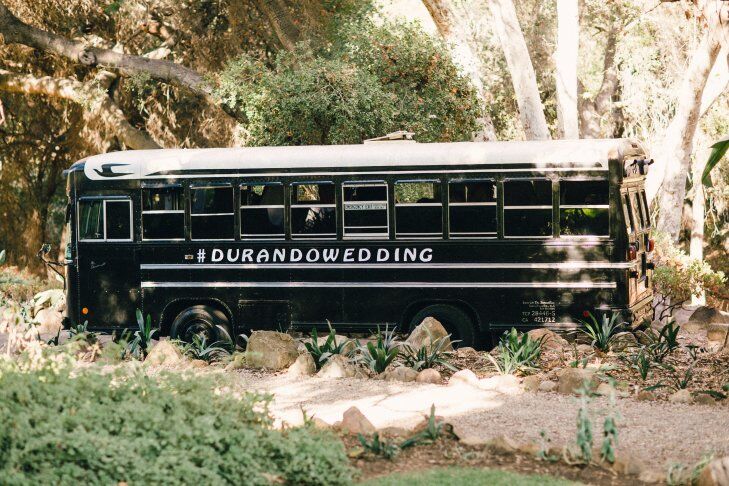 photo by 
MI BELLE PHOTOGRAPHY
Whether you're using the bus for actual transportation or for a quirky backdrop, your guests will love this old-school ride announcing your hashtag.
From: A Romantic Garden Wedding at a Private Residence in Ojai, California
4. Jacket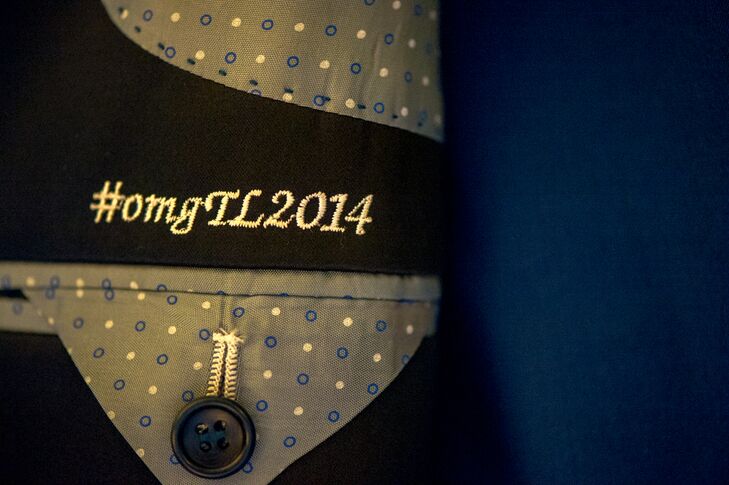 photo by 
RASHAD PLEASANT | PHOTOGRAPHY
Not only will the stitching serve as a thoughtful memento for years to come, it will also be a fun party trick for the groom when guests ask about the hashtag.
From: A Glitzy Wedding at The Westin in Mount Laurel, New Jersey
5. Planters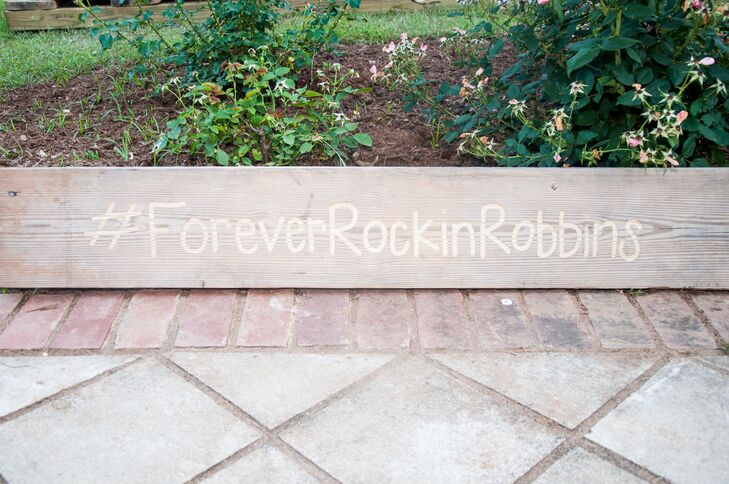 Let the landscape state your wedding hashtag with engravings on planters and chalk lettering on pavement.
From: An Aqua and Orange Wedding at a Private Residence in Auburn, Alabama
6. Lawn Games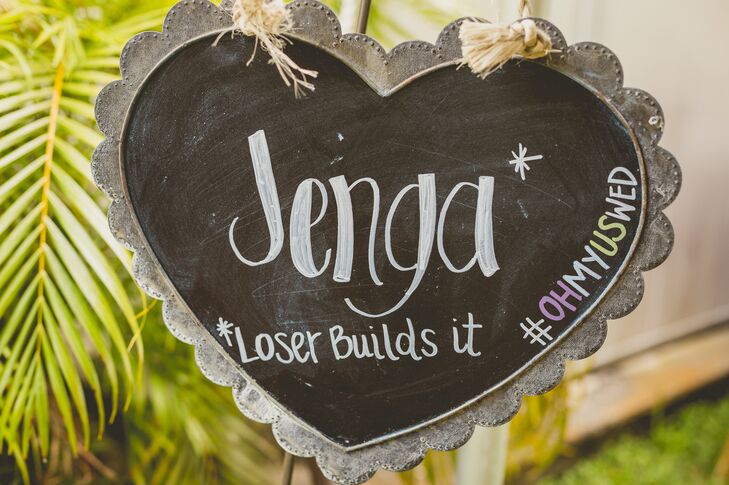 photo by 
CHRIS SOSA PHOTOGRAPHY
Game-loving guests won't miss your hashtag when playing Jenga or cornhole.
From: A Vintage, Rustic Wedding at a Private Residence in Miami, Florida
7. Bar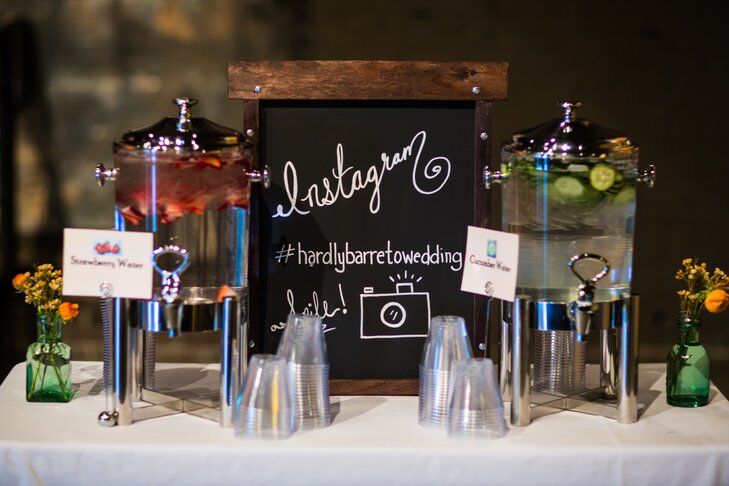 photo by 
MERKLE PHOTOGRAPHY
Guests looking to get a refill will also be reminded what to tag your photos with.
From: A Vintage Industrial Chic Wedding in Baltimore, MD
8. Wall Decor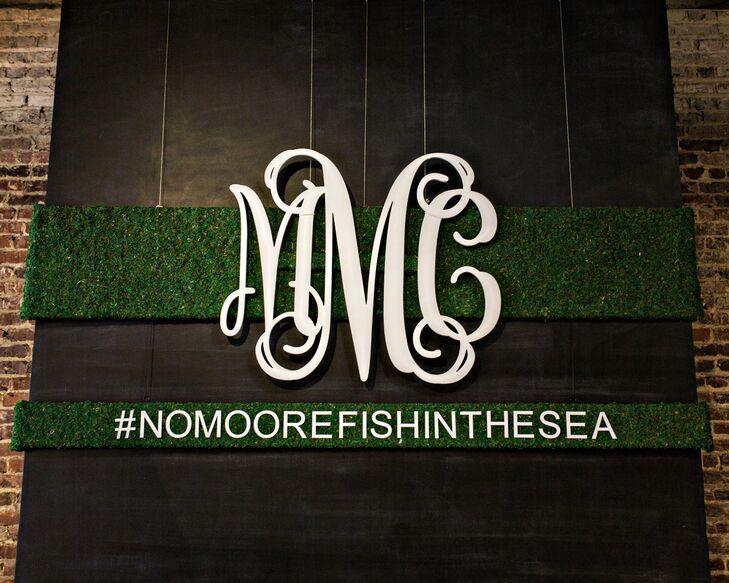 photo by 
ASHLEY NICOLE PHOTOGRAPHY LLC
Display your hashtag along with your new monogram on a focal point of the reception that will blend seamlessly with your decor.
From: A Rustic Wedding at the Stockroom at 230 in Raleigh, North Carolina
9. Drink Cards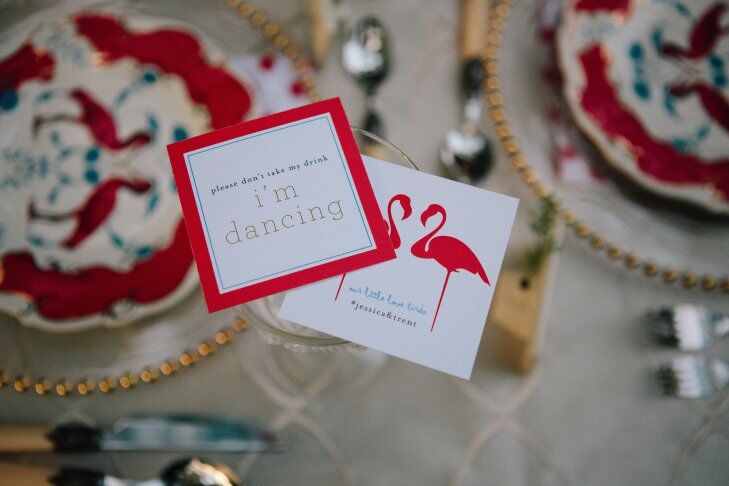 photo by 
BRITTANY GRAHAM PHOTOGRAPHY
Your guests will love these drink-saver cards when they're out on the dance floor—they'll also serve as a quick reminder for when they're tagging photos and resting their feet.
From: A Creative Flamingo-Inspired Wedding at a Private Residence in Cleveland, Ohio
10. Menu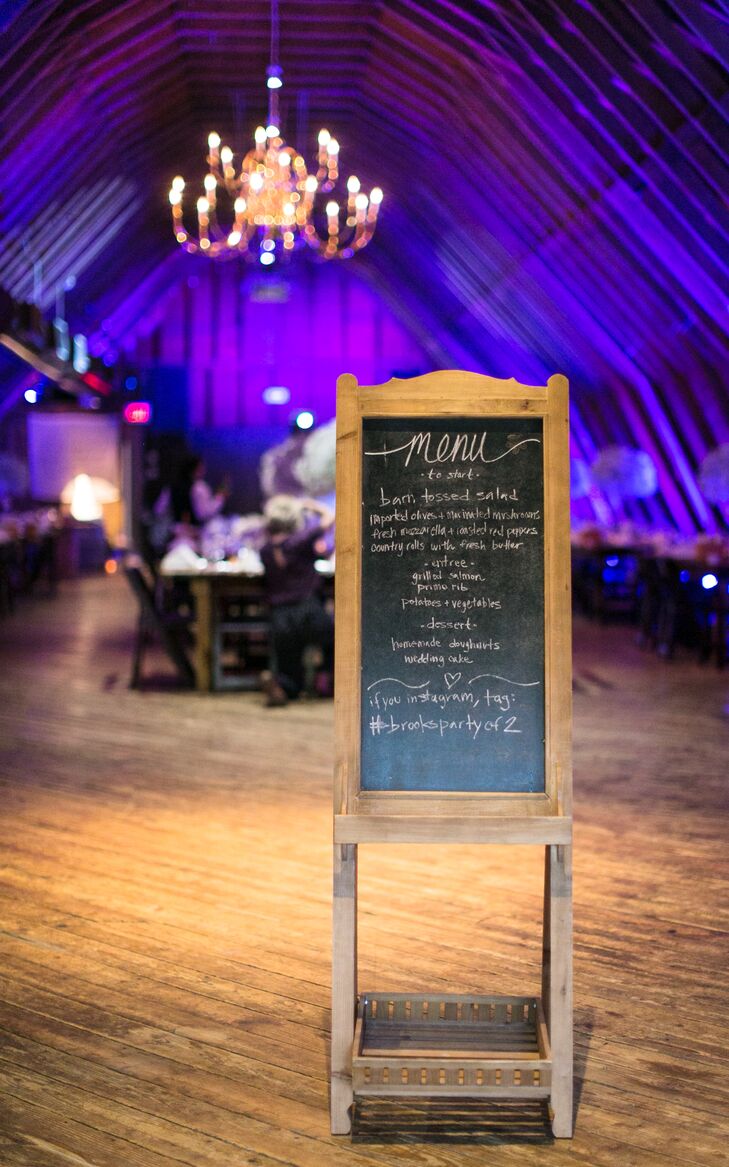 photo by 
BRIANNA WILBUR PHOTOGRAPHY
Where there's food, attention will be paid—so a menu is the perfect spot.
From: A Vibrant Wedding at Perona Farms in Andover, New Jersey
11. Table Cards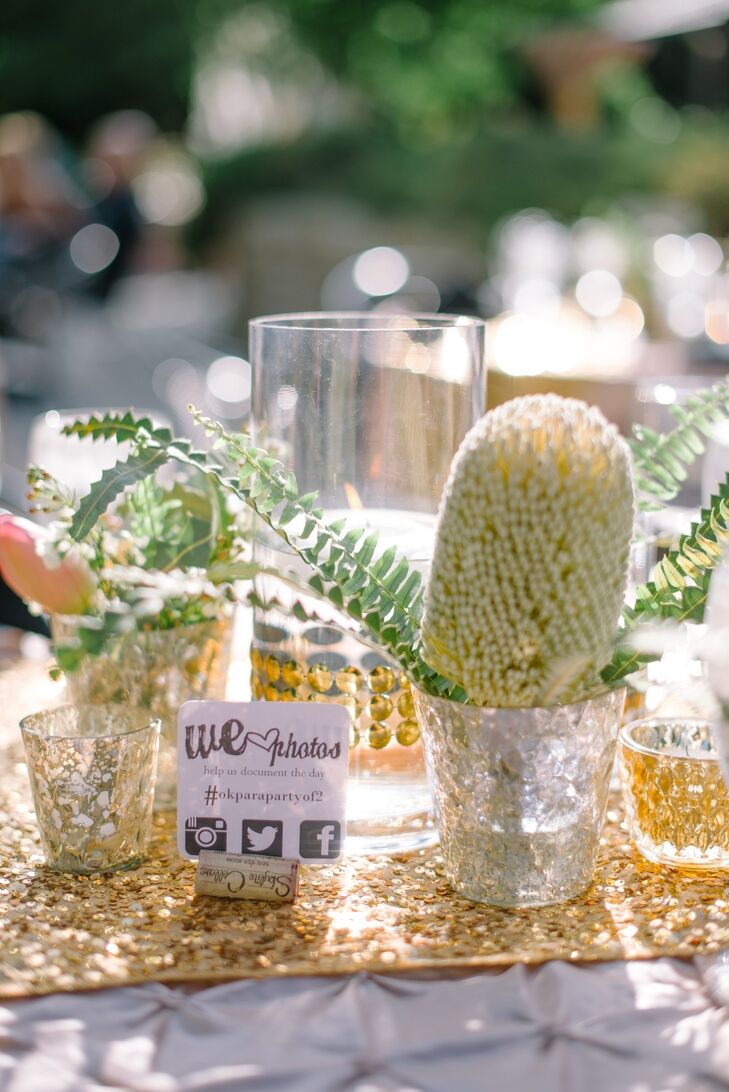 photo by 
JENNIFER MILLER PHOTOGRAPHY
Want a fuss-free way to display your wedding hashtag? Create simple table cards that remind guests to post, and place them among centerpiece clusters.
From: A Chic Multicultural Wedding at Botanica Gardens in Wichita, Kansas
12. Photo Booth Props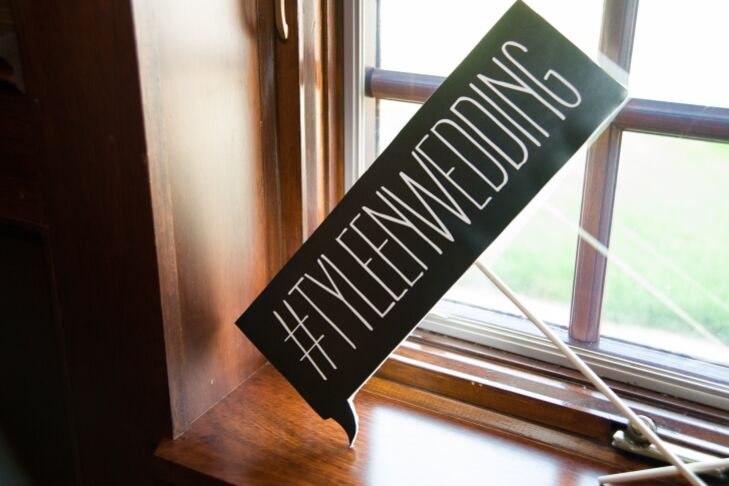 photo by 
ALISON KUNDRATIC PHOTOGRAPHY
Personalize props with your wedding hashtag so guests remember to tag their photo booth snaps.
From: A Classic Summer Wedding at The Marq in De Pere, Wisconsin
13. Table Numbers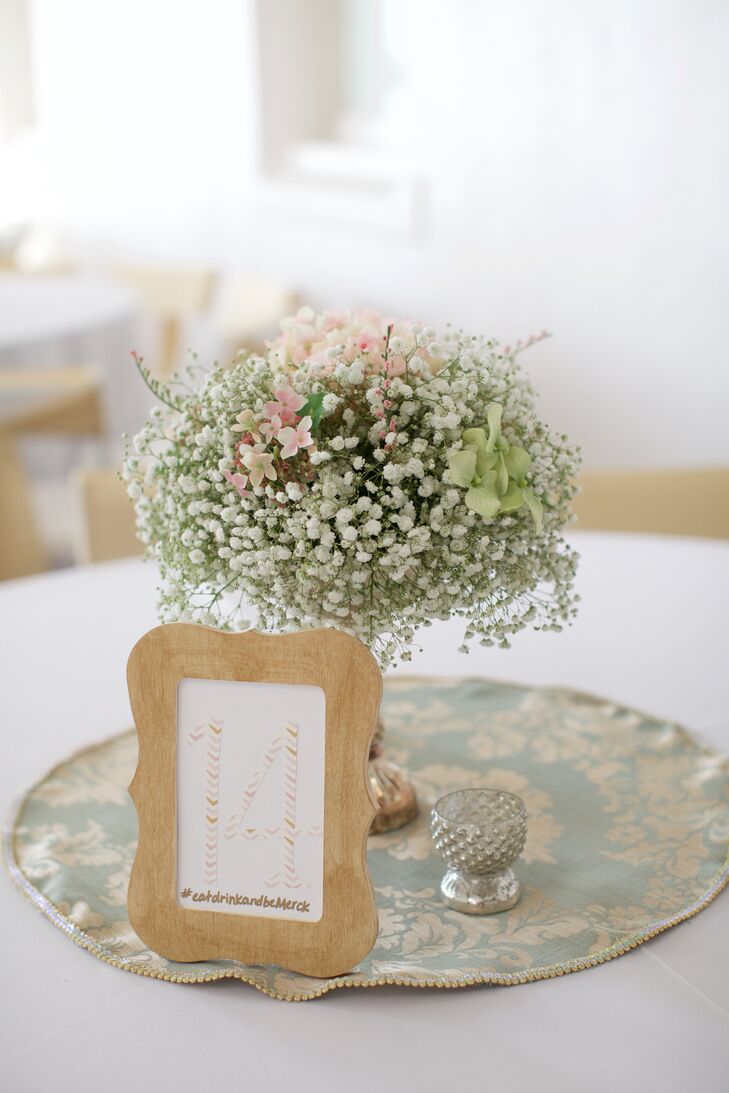 photo by 
HOLLY L. ROBBINS PHOTOGRAPHY
Include your hashtag with your table numbers and it'll remain on display all night.
From: An Elegant Summer Wedding at Callanwolde Fine Arts Center in Atlanta, Georgia
14. Welcome Sign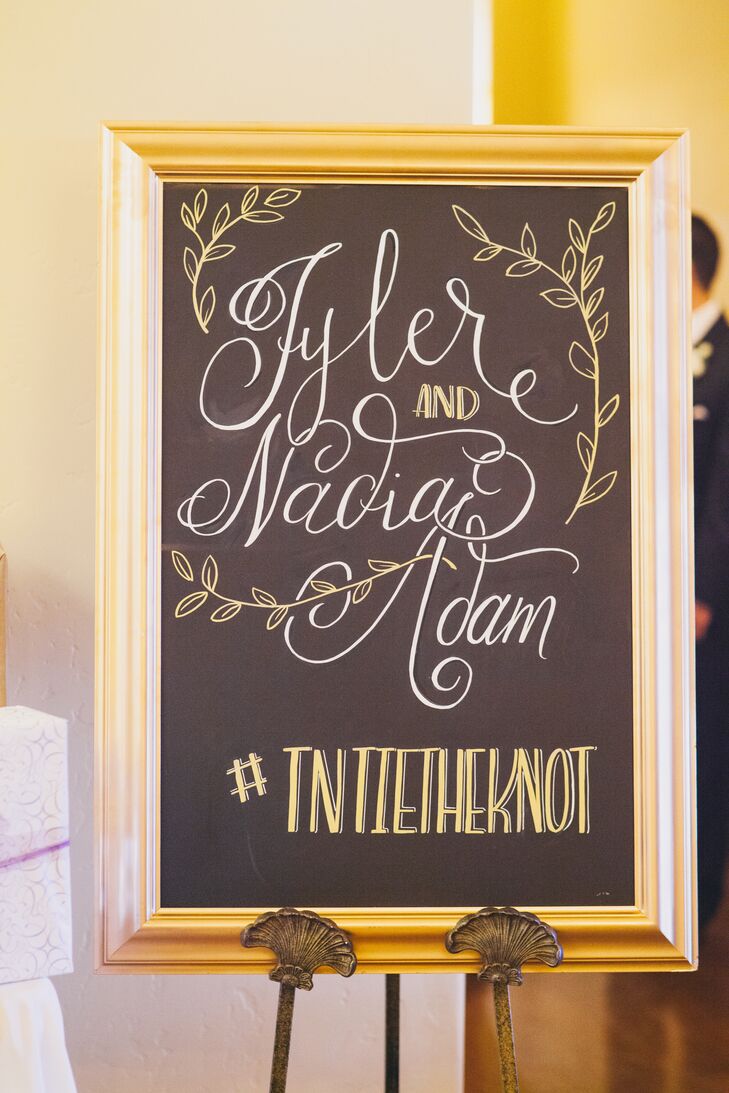 photo by 
ALEXANDRA WALLACE
First thing that guests will see at the reception? A welcome sign complete with your wedding hashtag.
From: A Classic Wedding With a Glamorous Twist at Santa Maria Country Club in Santa Maria, California
15. Table Games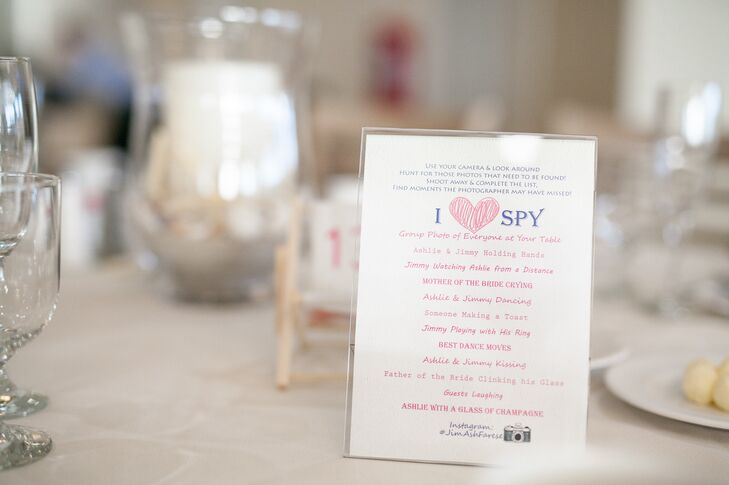 photo by 
SHORESHOTZ WEDDINGS
Looking to give your guests something to do during dinner? Have them participate in a photography version of the classic "I Spy" game as they tag photos using your hashtag.
From: A Beach-Inspired Wedding at the Sea Crest Beach Hotel in Falmouth, Massachusetts
16. Guest Book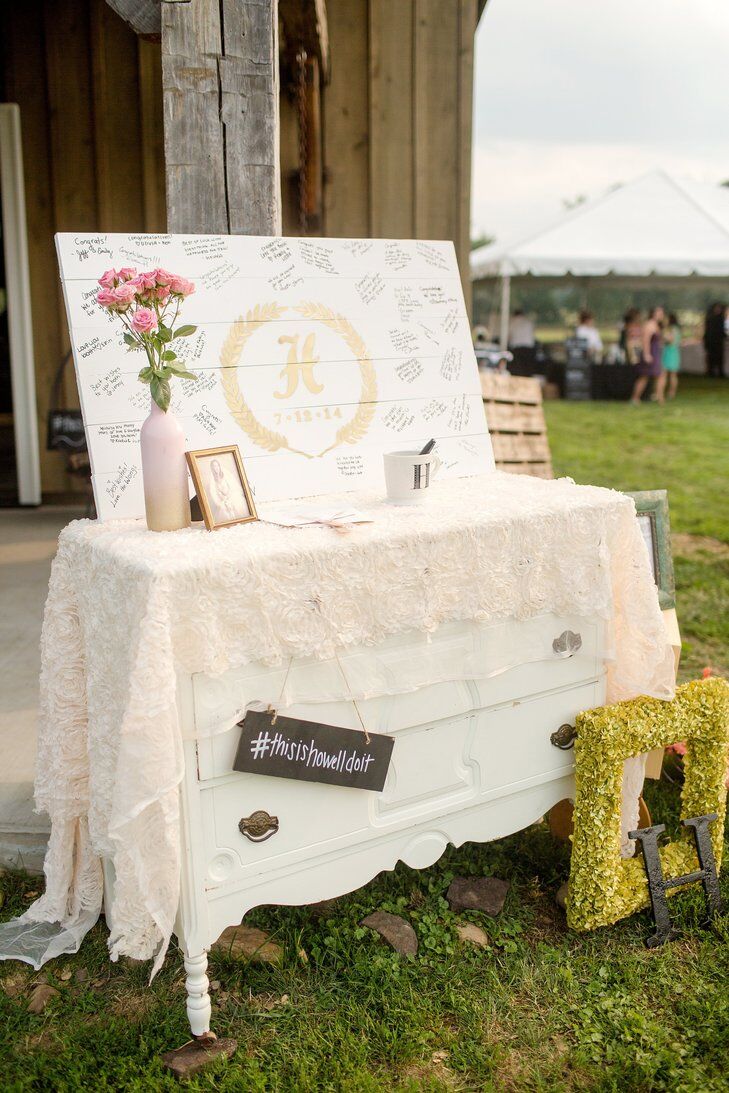 photo by 
KATELYN JAMES PHOTOGRAPHY
Combine old-school letter writing with new-age social media posting by displaying your wedding hashtag alongside the guest book or board.
From: A Vintage Rustic Wedding at Big Spring Farm in Lexington, Virginia
17. Frames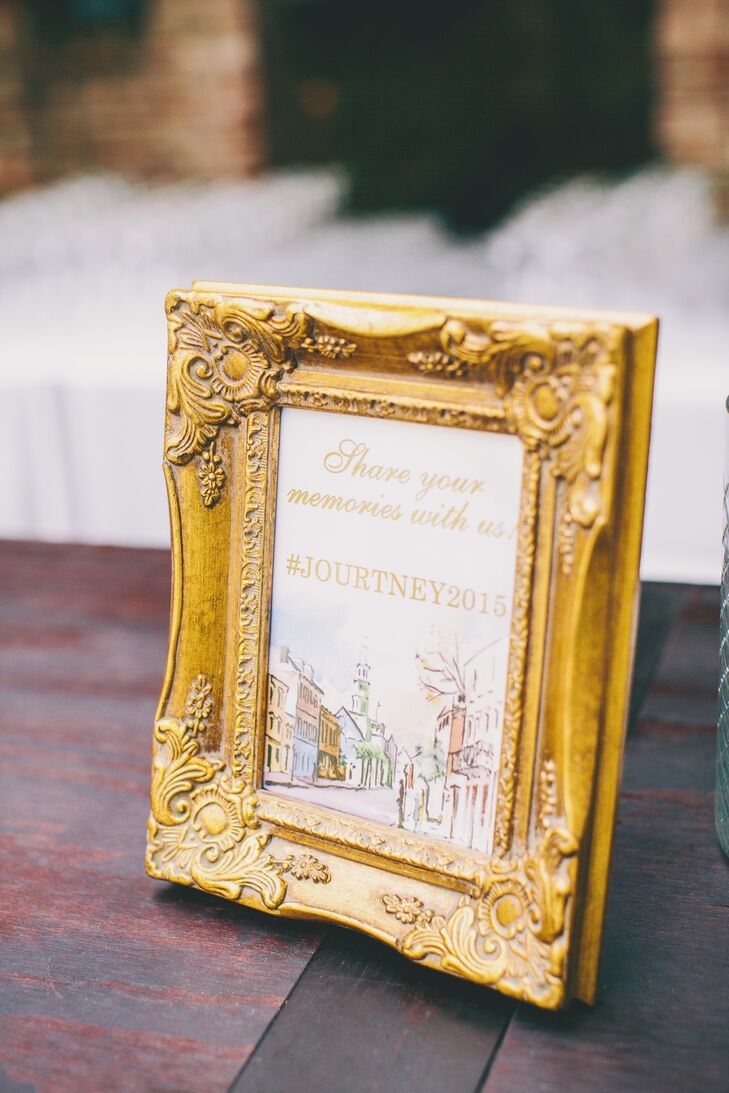 Give your guests something pretty to look at by sneaking the hashtag into a frame.
From: A Simply Elegant Wedding at William Aiken House in Charleston, South Carolina
18. Welcome Bags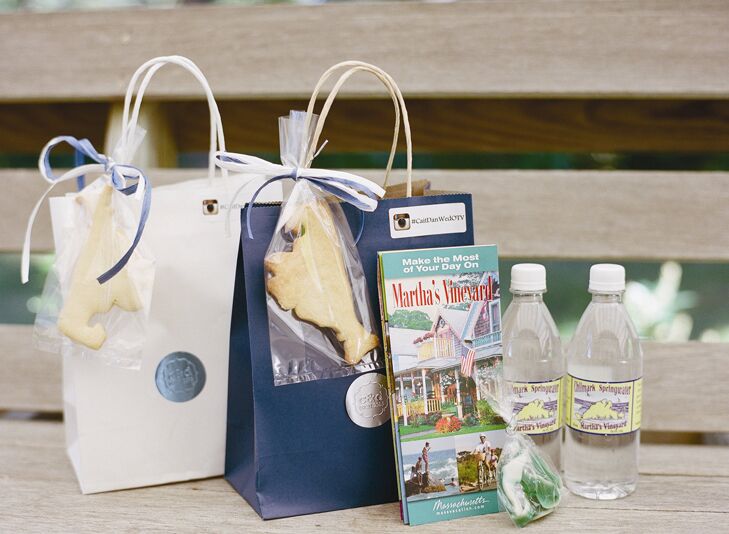 photo by 
JOCELYN FILLEY PHOTOGRAPHY
Remind guests right when they arrive that you'll be using a hashtag at your wedding. That way, you'll likely see photos from all of your events.
From: A Tower House Wedding in Chilmark, Massachusetts
19. Photo Backdrop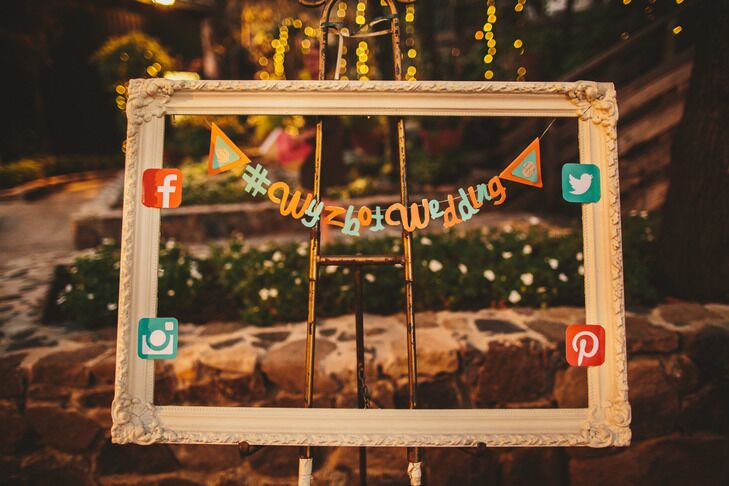 photo by 
YES, DEAR. STUDIO
It won't be easy to forget your wedding hashtag when it's part of all the photos.
From: A Literary-Inspired Garden Wedding at Calamigos Ranch in Malibu, California
20. Favors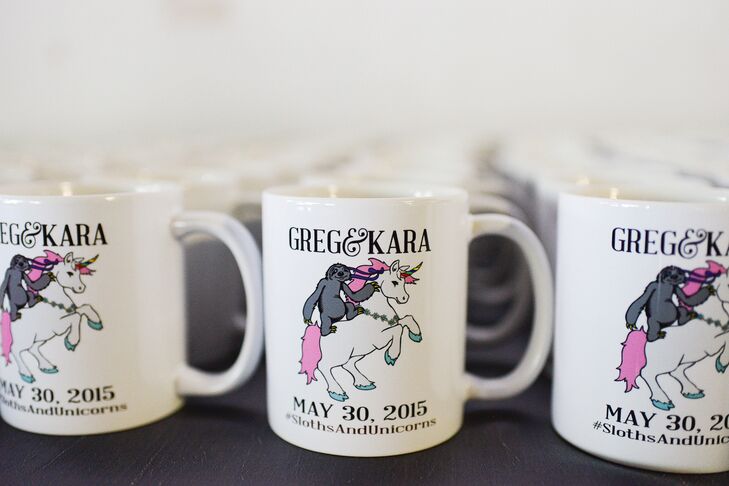 photo by 
FINCH & FARROW PHOTOGRAPHY
Leave your guests with a final reminder of how to tag photos from your wedding with unique favors like these.